It had been a rough morning. I had been up with the baby at 5 after he had spit up his bottle and required a complete clothes and bedding change. I had made coffee and breakfast for my husband as he left the house. I had laid back down for "just for a while" and was awakened by children's voices, which meant I had no time for devotions and an unhurried cup of coffee. I had broken up several fights, listened to whines about the breakfast choices and now I was cooking breakfast still in my pajamas at 10:00 A.M. I was overwhelmed and discouraged and tears were threatening to spill. I settled the kids in their room to play and turned on Pandora Radio while finishing breakfast.
"As I walked through the door, I sensed His Presence," the first song began. "And I knew this was a place where love abounds, for this is His temple, Jehovah God abides here, and we are standing in His Presence on holy ground." Holy ground? As I looked down at the dirty dishes I was scrubbing,
Ann Voskamp's words
in
One Thousand Gifts
came to mind. How she thanked the Lord for the suds in her sink. Yes, this
was
holy ground and God's Presence
was
there beside me!
I felt such a sense of His nearness then. I wept, and poured out my praise to Him. Yes, my praise for the dirty dishes because that meant there were people I loved there to dirty them. My praise for sleeplessness because it meant I had a baby to care for. My praise for children who fight because it means I can be the one to train them to love. My praise for late breakfasts, disrupted plans, car problems and months where the month seems longer than the money because that is when God's Presence is the most real.
"In His Presence there is joy beyond measure, and at His feet, peace of mind can still be found. If you have a need, I know He has the answer. Reach out and claim it for you are standing on holy ground." the song continued. I couldn't help it. For only the second time in my life, I was compelled to bow low in the very Presence of God. There, in my pajamas, on the kitchen floor between piles of crumbs and strewn about refrigerator magnets, I bowed on my face before Him. He was really there, and all that my heart could feel was praise and thanksgiving!
Yes, that day God came to my kitchen, and I don't want Him to ever leave.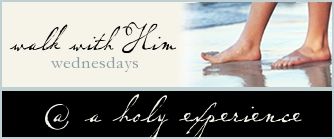 Jennifer Self
is a disciple of Jesus Christ who loves following His plan for her life as a wife to the most wonderful man in the world and mama to four little blessings. Her days are filled with spending time with her man, homeschooling, preparing reasonably healthy meals and keeping the dust bunnies and the clutter monster at bay with a little blogging mixed in. After her family has been taken care of, she dabbles in her other passions of reading, health and music. She blogs about her life, her Heavenly Father, marriage, parenting and home at
www.joyeverafter.blogspot.com
and real food for real families from the perspective of real faith at
www.growingreal.net
.